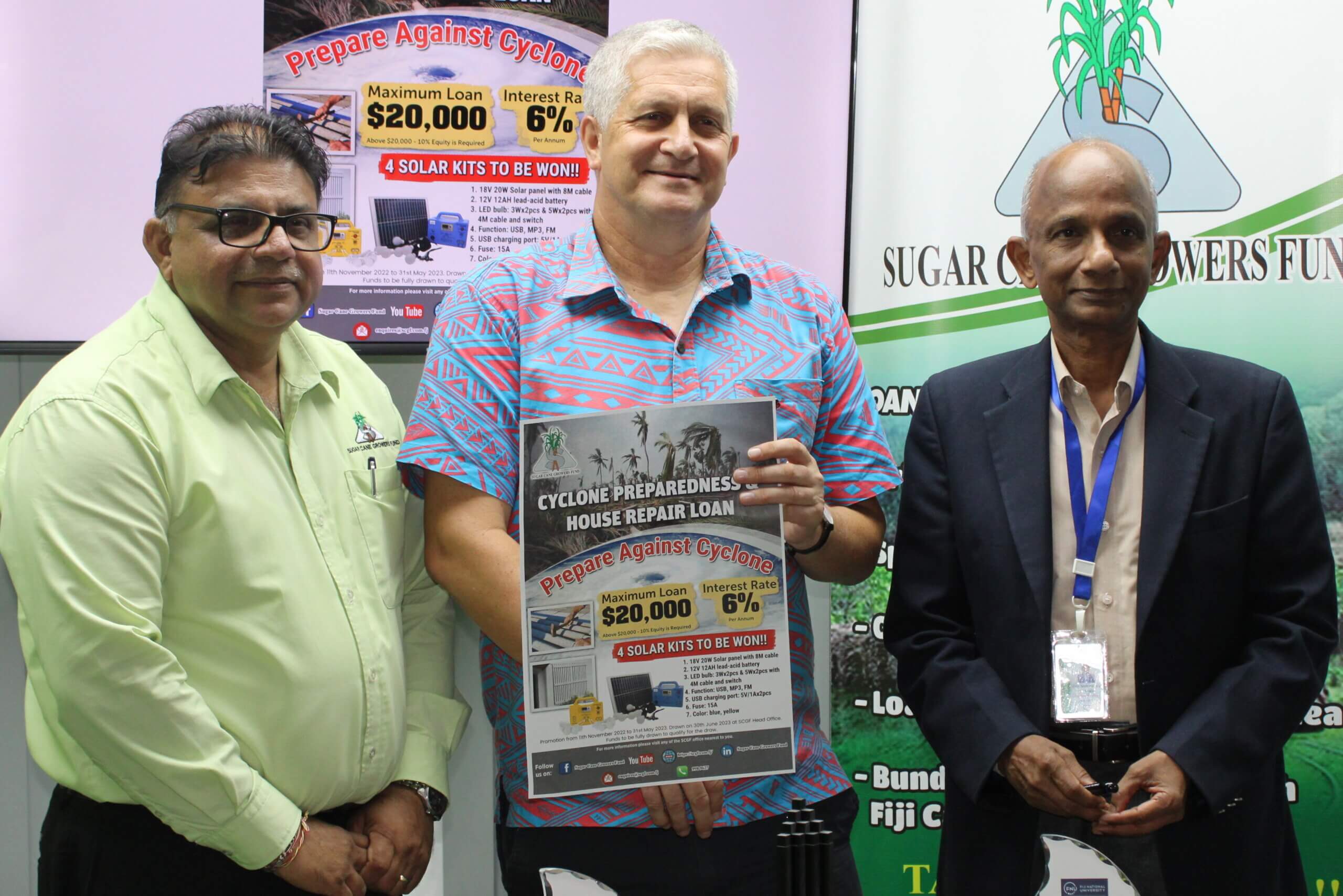 Sugar Cane Growers Fund (SCGF) this morning while launching Cyclone Preparedness & House Repair Loan dedicated its recent winning of awards to the Growers and its Staff.
The Chief Executive Officer Mr. Raj Sharma said that in the last two weeks SCGF has won three awards at (1) National Team Excellence Competition organized by FNU. In this, SCGF achieved- 2 Star Rating and Special award for Learning & Development and (2) Fiji Business Excellence Award – the Achievement category.  The achievement award is second in a row.
These are very proud moments for not only us but the growers and the industry, said Mr Sharma.
This has come about with support of Ministry of Sugar, Chairman, Board, Management & dedicated Staff. These all relates to innovation, products and services, digitalisation, leadership, customer focus, people management, sustainability, women empowerment, organisational transformation and climate change.
When we talk about climate change and talking in November – it means cyclone!!! As the world leaders are meeting on COP 27, today we are also launching a promotion for Cyclone Preparedness and House Repair Loan. In this promotion last year [from 19th November 2021 to 31st May 2022] 230 growers took loan – $891,578.78. Now that cane crushing is coming to an end and some of the growers still have to fix the house, get the roof changed and fasten the house, so this the time to it, said Mr Sharma .The promotion starts from 11th November 2022 and will end 31st May 2023. There will be four lucky winners to get solar generators which will be drawn on 30th June 2023 subject to they have fully drawn the approved funds.
On this occasion, we must acknowledge the presence of His Excellency and there is some discussion we have with High Commission for Climate change and Women Empowerment requests. We also understand that he is concluding his term soon and hope he would have enjoyed his stay in Fiji. We have seen him on many occasions meeting the people at grassroots level and down the villages. We thank him for all his contributions during his tenure and wish him and his family all the best.