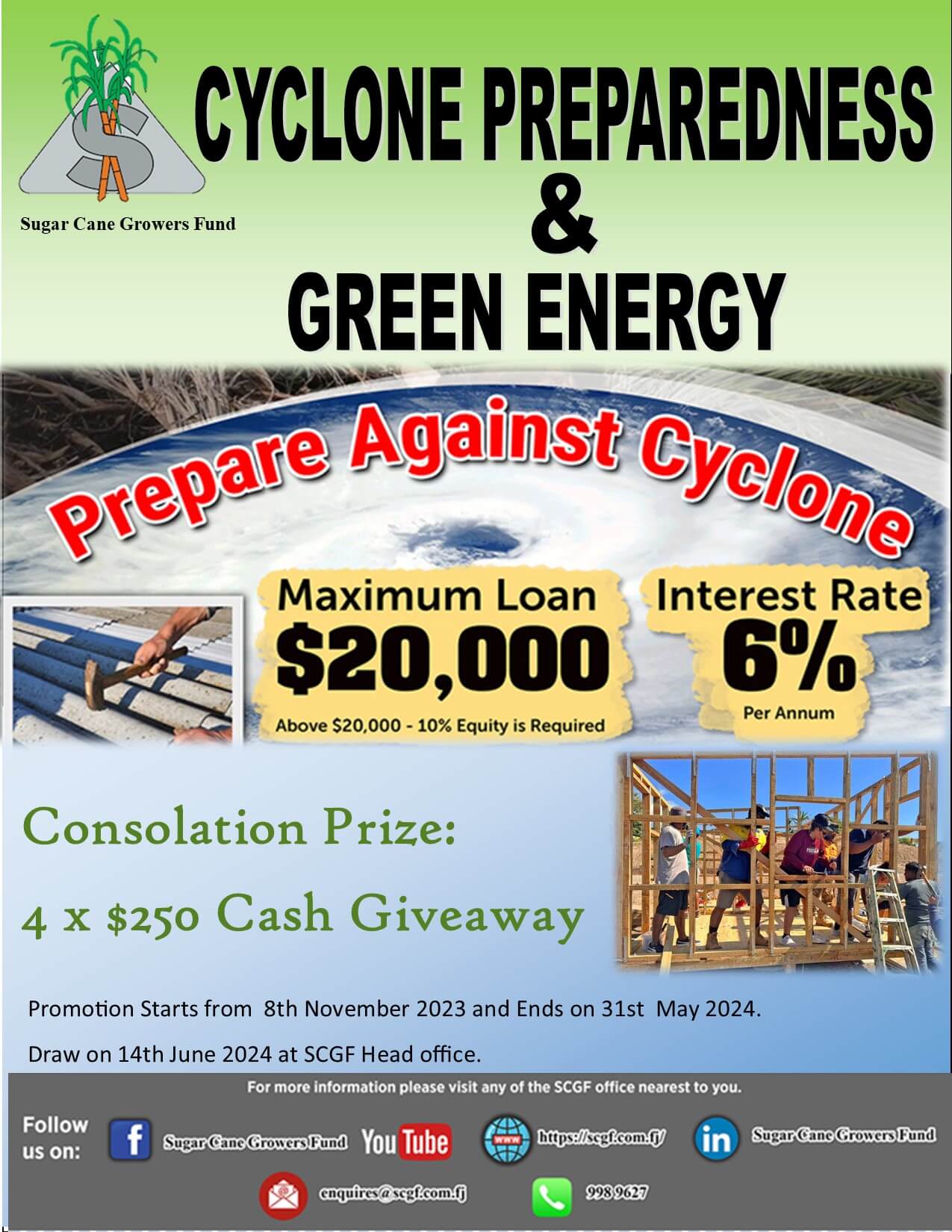 Sugar Cane Growers Fund (SCGF) today launched Cyclone Preparedness and Green Energy Loan Promotion. While launching the promotion, Assistant Minister at Prime Minister's Office Hon Sakiusa Tubuna said Cyclones occur occasionally in Fiji on an average of 3 times a year. The most affected regions are Western and Northern and that's where our sugar industry lies. He said the cane farming community has been vulnerable to these devastating damages, and TC Winston, TC Yasa and TC Anna are some typical examples. He stated the cyclones caused significant loss and damage to the crops. Since farmers were unable to implement any adaptation measures in their sugarcane farms, most of the farmers ended up losing their crops and homes. He acknowledged the effort of SCGF on this promotion.
Permanent Secretary of Special Projects at the Ministry of Multi-Ethnic Affairs & Sugar Industry, Dr Vinesh Kumar alluded to the sentiment of Hon Tubuna, stating that this initiative is very timely including the green energy concept to reduce the carbon footprint.
Under the promotion, growers can take loans up to $20,000 at an interest rate of 6% per annum. For more than $20,000, an equity of 10% will be required. In addition, there will be 4 x $250 cash giveaways. The promotion starts on 8th November 2023, will end on 31st May 2024, and will be drawn 14th June 2024. Mr Raj Sharma Chief Executive Officer of SCGF stated that as the crushing season ends in few weeks, it is time for the growers to also fix up their dwellings.
Last season 284 growers obtained loans of $1,166,242.36 in the promotion and SCGF expects similar amounts.  
Raj Sharma
Chief Executive Officer